Another page from LittleFilm.org
BOOKS and BOOK REVIEWS
We are pleased to announce publication of Bob Brodsky's memoir,
"Marching Bands Make Me Cry:
Hearing Drumbeats and Choosing your Tribe."
For details, photos, excerpts and reader's comments,
this picture of the cover links to the book's homepage.: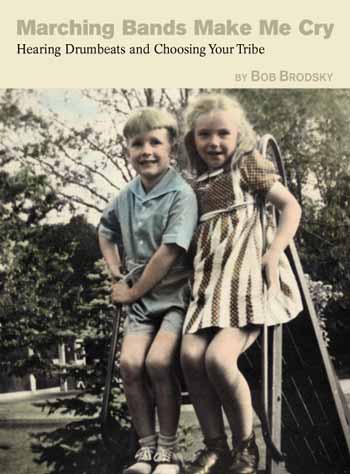 ---
FYI: Brodsky & Treadway's book "Super 8 in the Video Age"
(first edition 1982, third edition 1988) is currently out of print.
A new edition is sketched out and we will find time for it if you express interest. Please scroll to the bottom of this page and post your comments and click "Subscribe " which allows automatic notification by email. Thank you. This helps me, your editor, Toni Treadway, find the time to update our filmmaking book and learn what you want in it.

---
BOOK REVIEW

Alan D. Kattelle's "HOME MOVIES
A History of the American Industry 1897-1979"
"a really readable book about movie technology" -review by Bob Brodsky
Clear your favorite reading spot and some time for Alan D. Kattelle's hefty new book: HOME MOVIES A History of the American Industry 1897-1979. This is a monumental, 15 year labor of love. In 410 pages, with 321 remarkable illustrations, Alan's book puts faces on the inventors and engineers that gave us home movies. He examines the genius, luck, and gaffes that propelled the home movie phenomenon. He starts with the Ancestry of the Motion Picture and early experiments with Motion. He gives a whole chapter to Amateur Equipment prior to 1923, two big chapters on George Eastman and Kodak, a whole chapter each on Bell & Howell, other competitors, color, and technical advances after World War II.
By page 204 we get the "Next Big Advance-Super 8 in 1965" then on to Existing Light, Sound, with some comments, like stage aside, on that thing called video, the literature and organizations of amateur motion picture, and a chapter just for hardware collectors. Not only is Kattelle's language calculated to be helpful to a lay reader, but the author departs from strict chronology to complete the conceptual story. This choice is crucial to understanding the highly individualistic path of developments in the American marketplace. At times I wish for more mention of concurrent technology in Europe and Japan, but Kattelle struggled to limit the size of the work, and chose to focus on the US industry to make the book somewhat affordable.
Beyond the rare joy of a really readable book about movie technology, Kattelle has generously given us solid gold in his appendices. There's a bibliography, a chronology of Kodak filmstocks, a survey of various American equipment manufacturers from Bell & Howell and Kodak to Revere and Victor, and drawings of camera apertures--all a treasure trove to the researcher or investigator.
Alan Kattelle is co-founder of the Movie Machine Society, its past-president, a retired engineer, and a collector of amateur motion picture hardware. He's been writing on amateur motion picture subjects for 20 years. Alan also serves as an advisor to Northeast Historic Film. In the spirit of full disclosure, I was asked to write a brief comment for this book about the state of Super 8 today. I have know Alan and Natalie Kattelle for some time and most of what I know about very early movie apparatus I learned at their house, so I was prone to like this book. In holding the advance copy in a 4 inch binder in my lap, I discovered much. I admire this book and the author for his tireless effort to share his irreplaceable research and true passion for home movies, the hardware and to honor the engineers and their ingenuity.
Reviewed by Bob Brodsky, 2001, partner in Brodsky & Treadway, and co-founder of IC8.
Ordering info: Kattelle's Home Movies, A History...
Enfield Distribution Co.
P.O. Box 699
Enfield, NH 03748
Price is $49.95 + $5.00 shipping, $2. shipping for each additional book. Pay by Visa, Mastercard, American Express or checks payable to Enfield Distribution Co.
###
Excerpted from "B&T's Little Film Notebook #22" 2001 Antoinette Treadway, International Center for 8mm Film, Inc.
For printed (paper version) booklet of entire IC8 newsletter, send $2 and your postal address to IC8, PO Box 335, Rowley MA 01969.